Jeep Wranglers are arguably one of the most iconic off-road vehicles, and for good reason, too. They've stood the test of time, and although nowadays they are becoming somewhat of a fashion statement, the truth is that these four-wheel-drives are built to have some fun in!
True Jeep owners will tell you that the premise of their design is to drive over uneven terrain, splash through puddles in the rain, and really get dirty in the rain.
Whether you're taking your Jeep Wrangler off road, or driving in the city, you're more than likely going to come across some pretty deep puddles or large bodies of water that, in a typical city car, you'd certainly want to avoid incase of causing damage. The good news is; this isn't your typical city car.
Are Jeep Wranglers Waterproof?
Jeep Wranglers are waterproof. The hard top Wrangler model(s) are fully waterproof. The soft top model(s), on the other hand, are water resistant, not waterproof. As long as the vehicle isn't fully submerged underwater, and all electronic components don't get wet, the Jeep will be fine.
There are parts of a Jeep Wrangler that you should try to avoid getting wet, particularly the interior seats and floor carpet, as you will need to air dry them if they get soaked.
Although not waterproof, even the electronic components are highly water resistant and have undergone thorough testing by Jeep manufacturers to ensure that they are capable of working in testing environments.
There are a few things you can do to help keep the interior of your Jeep dry – the first and most obvious one is treating the roof canvas.
How Do I Waterproof My Jeep Wrangler Soft Top Canvas?
Jeeps are made for fun, and part of that fun is crashing through muddy terrain with the top off. Whilst many of us don't mind a little rain, it is easy to get caught out by the weather on a bad day.
The canvas used for the soft top Jeeps is water resistant to a a good degree and will keep the interior dry and protect the electronics. Unless you manage to tear a hole in the canvas, the issues more often than not will arise from an issue with the seal where the edge of the canvas pulls over the top of the Jeep.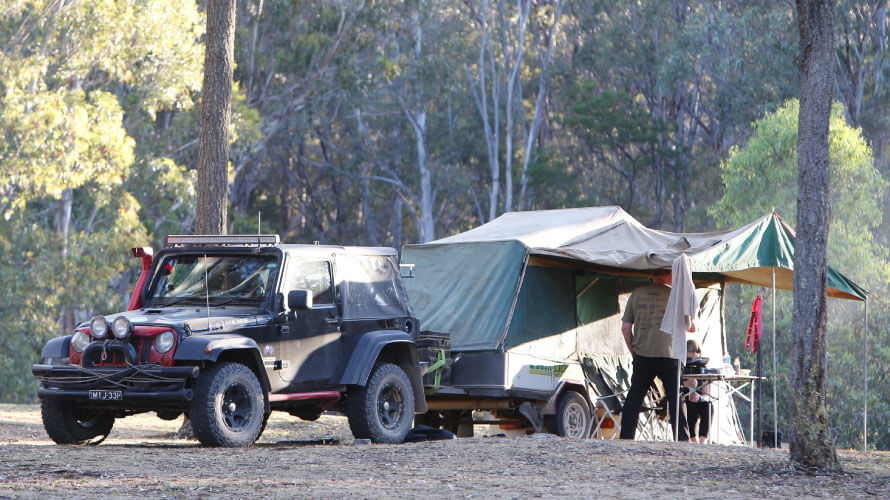 First off, check to ensure that the inner wire tube aligns along the top frame of the Jeep. If it does then you will need to check the frame itself, as it can sometimes wear away at parts. You will need to use a soft waterproof sealant to help insulate the frame, or better yet; weatherstripping, to protect from any leaks and your Jeep from always getting soaked whenever there's bad weather.
This will keep the seats, dash, steering wheel and the rest of the Jeeps interior completely dry.
If you decide not to do this to your Wrangler, and the interior does get wet, it shouldn't be too much hassle to dry as long as there's no rain. Simply pull back the roof and air out the inside of the car.
One thing to be cautious of is if the carpet flooring in your Jeep Wrangler gets wet and doesn't fully dry, mildew and mould can form in these damp conditions.
If you're forgetful and sometimes leave the roof down, then the inside of the vehicle is going to get wet. If the dash and steering wheel get wet, you can just dry them off with a cloth and you're good to go. If the seats tend to regularly get wet, it would be worth considering a seat cover to keep them dry, so that the next time you use your Jeep, you're not sat in a puddle of water!
Are Jeep Wrangler Interiors (And Seats) Waterproof?
Jeep owners are generally the outdoorsy type. This means sometimes you're going to be getting in your Jeep soaked or covered in dirt (meaning it's going to need a good clean!).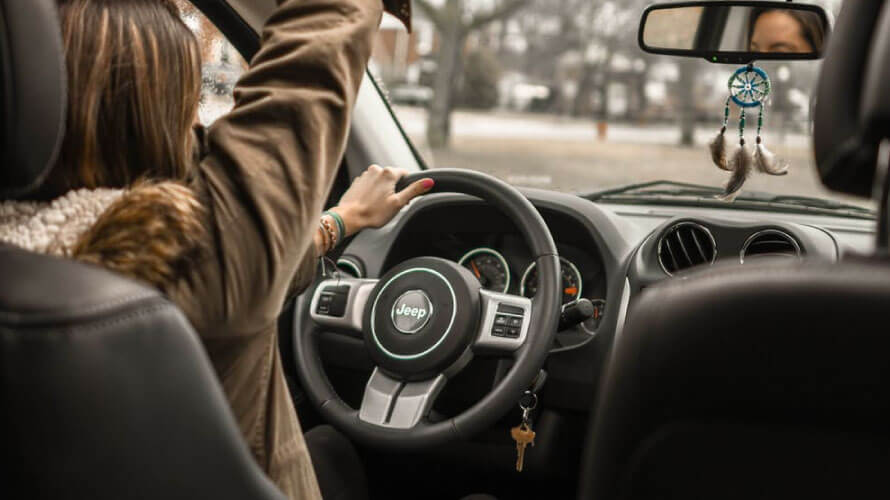 Seat covers are a handy temporary solution to stop getting water on the car's upholstery if this is only a very occasional occurrence. Simply cover the seat beforehand so the only the seat covers get wet, then take off and clean after, leaving the seats clean and dry for use again as normal.
The best option for Jeep owners who often have the top back when they drive in the rain would be to make the seats fully waterproof rather than water resistant by getting permanent seat covers fitted in the interior.
As for the floor, there are tricks such as using a bed cover to fit to the floor which will make it much more durable, though again, you would be best to have a custom built interior floor that is 100% waterproof if it is going to be covered in water regularly to stop this happening to the carpets.
Can Jeep Wranglers Drive Submerged In Water?
If you're the kind of Jeep owner that takes it up a notch when you go off-roading in torrential weather, you might come across deep pools of water, meaning that your Wrangler may become partially submerged in water.
The Jeep Wrangler sits much higher off the ground than your everyday car, meaning it has the ability to drive through large bodies of water without anything other than the wheels getting wet, but what happens when the water rises up to the doors? You might be happy to know that this is not a problem for the Jeep or its interior (although it may be best to give it a deep clean the next day).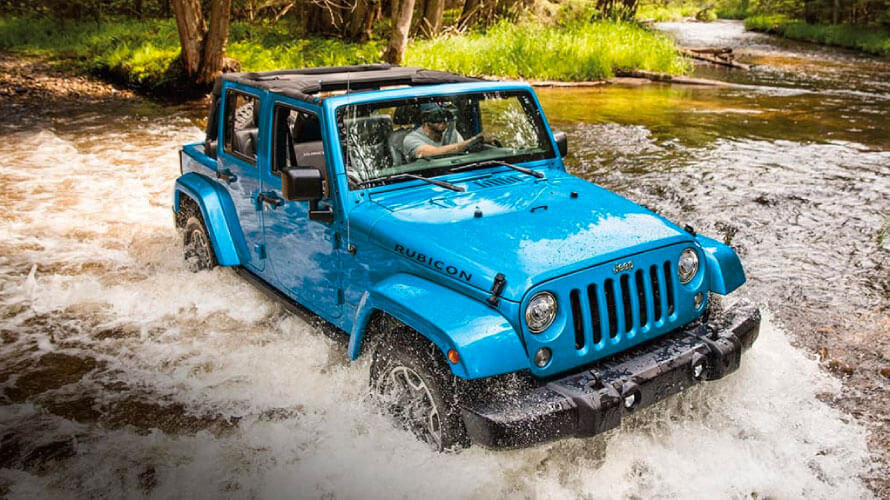 We all know the Jeep is designed to handle exactly this kind of situation, and therefore if getting soaked is no issue to you, then your Wrangler is going to be fine going through these kinds of things without any extra help.
The only thing that you should always protect on your Jeep is the electronics. In fact, the water can actually fill up inside the Jeep to some extent, as long as it doesn't go upto the dash. If the controls become submerged, and things like the clock spring gets wet, your Jeep may have some new issues – so try keeping those things dry at as much as you can.
How Do You Drain Water From Inside A Jeep Wrangler?
Even if your Jeep does end up getting filled with water, it has built in plugs to help drain said water.
Keep in mind there are many different models of Jeep, though the plugs are all positioned in similar places on both the passenger and driver side. The plugs are covered with a bit of carpet, which might be hard to remove for the first time as it has a thin bit of thread holding it to the floor mat, but once it is taken off it can be replaced easily. You will need to take the carpet cover out of the way and pull the plugs out to let the water drain.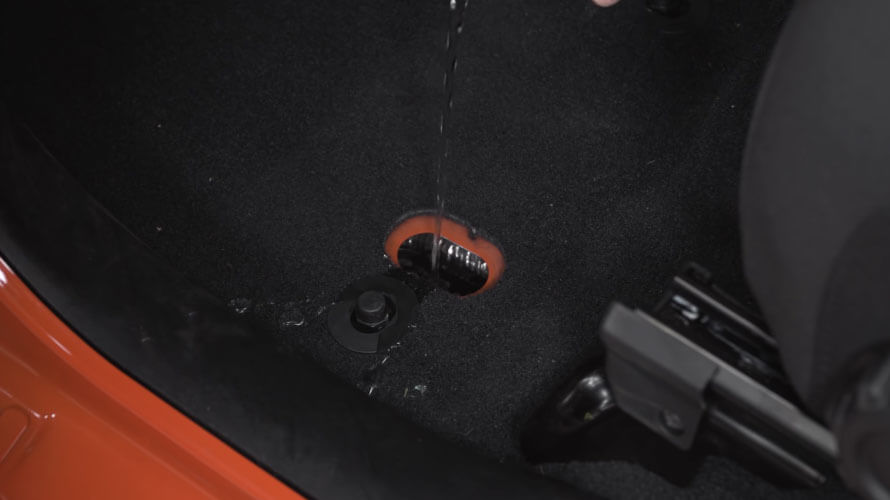 Some older models of Wrangler aren't as simple, as the carpets actually cover the hole and water is expected to soak through the carpet and drain out of the hole. You can, however, use a bit of DIY know-how to cut these holes yourself if you want the water to drain much faster, and have better access to pull the plugs without having to pull the whole flooring cover up.
In models such as the JL, this becomes an advantage as you can clip in all weather rubber floor mats to the retention pins beside the plugs, which have built in holes to remove any excess water that gets caught in the footwell. These are super handy if there's bad weather such as snow, as when it melts off your boots it will filter straight out of the Jeep without the carpets getting soaked.
Are Jeep Wrangler Radios Waterproof?
As Jeep owners, we understand it isn't hard to get caught in bad weather when out and about. Sometimes this doesn't always happen at the most convenient times, too. But Jeeps have been designed with this in mind. The radios, dash and even other visible electronics on the car are water resistant and will air dry without any issues. By no means should you submerge your radio in water to test it, but it will definitely hold up against the majority of situations it encounters in its lifetime.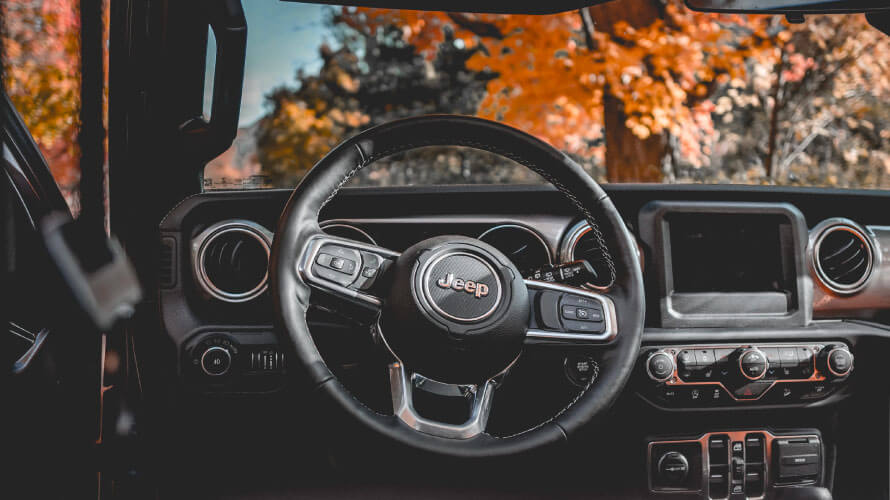 What To Do If Your Jeep Is Flooded
Drain the carpets. Always remove the plug-holes from the front footwells as an initial step.
If your roof isn't a hard top, pull it back and allow the air to get to it to help dry it out quicker.
Use a cloth to wipe down the electronics and help ensure nothing integral to the Jeep is soaked.
Summary
To summarize; your Jeep is waterproof – even more so if it is a hard top. If your Jeep has a soft canvas top, then it can be affected over time by weather, though won't take much fixing. To prevent the interior getting soaked when you drive with the top down, it may be worth investing in some seat covers. The carpets will drain themselves quick enough once you pull the drainage valve. The only thing you need to keep from getting soaked is any of the electronics, as this can lead to bigger problems within the car.